Workplace happiness is mission critical for any successful business. Research shows that happy employees are:
More motivated and more productive.
More engaged with the company's mission and have a sense of purpose.
Interacting more smoothly with their colleagues and managers.
How do you create happy employees?
If the last two years have taught us anything it's that people crave the human side of work. People want social and personal interactions with their colleagues and managers, no matter where their work happens. They want a sense of belonging, a sense of community and to feel part of a team with a shared purpose.
GoChallenge brings a bold new vision as to how organisations can facilitate these much sought after human aspects of work. We've carried out in-depth research to develop a science-backed platform that reconnects teams through exercise, social connection and common goals. It's all powered by the GoChallenge app.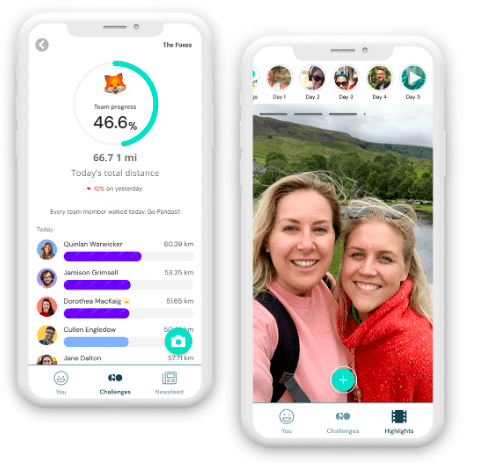 By cultivating a sense of community and friendly competition, your people can connect and bond over something other than work. Our app breaks down the barriers of time, location and team, all designed to help foster friendships, camaraderie and trust in each other's ability.
Team work makes the dream work
Completing our challenges as a team delivers the following benefits:
1. Foster friendships
A whopping 70% of employees say that having a friend at work is the most crucial element to a happy work life. Whether a workplace is in-person, remote, or hybrid, a culture that prioritises and encourages work friendships is good for employees and good for the bottom line. GoChallenge encourages co-workers to talk more.
2. A real sense of community
We promote unity and teamwork. We help you and your team develop a shared purpose; promote cross-company collaboration; share information and learnings.
3. Find and keep the best talent
We enable you to stand out from the crowd and demonstrate to your employees that you support and value them in a real way.
4. Bust departmental silos and overcome turf wars
Our challenges promote social interaction and let colleagues get to know each other as a whole person and not just "Tony from finance".
5. Healthy team = healthy bottom line
GoChallenge is designed to create happy, healthy, resilient teams that drive the business's bottom line.
Ready to up your happiness game?
Companies that prioritise their workers' social wellbeing and give people opportunities to make friends at work are set to thrive in every sense of the word. If you want to see how the GoChallenge platform can give your whole organisation a lift, we'd love to talk. Contact us at info@gochallenge.com